How To - Dual Carb VTEC Mini-Me
This how to is a description on how to build a VTEC Mini, on OEM Duel carbs! it can be a cheap mod, with one of the best "Bang for Buck" mods!
Whats this mod in a Nutshell? Putting a VTEC cylinder head, on a Non VTEC Block, the VTEC Heads flow better aswell as provide a compression bump, with the added power increase of VTEC, it also uses the OEM D14a1 Dual carbs, for added simplicity!
Why? Because Carbs are cool! and you can also laugh at 100's of people at car shows saying, "VTEC Cant work and carbs and needs an ECU", What do they know
, its also very simple to maintain, and with no ECU Involved, no worries of expensive tuning!
How VTEC Works! in simple terms, VTEC is a Solenoid Valve, which Opens with it receives a 12v Signal, This in turn lets oil into a seperate passway in the rocker assembly, which pushs, and locks Pins into the Inlet Rocker assembly, locking the rockers to the center rocker, to which the VTEC Lobe sits on, this in turn creates the longer duration and lift, on a Typical VTEC Car, the ECU Sends the signal, but in simple terms, you can set up a simple 12v button or switch to engage VTEC.
So, Down to business...
You will need.....
VTEC Head
Headgasket
Timing Belt
Adjustable Cam Gear
Electronic Fuel Pump
VTEC Switch
Explanations...
VTEC Head, D16z6 ones are the easiest to find! can be picked up pretty cheap to! i would recommend changing the Valve Stem Seals whilst the heads off the engine.
Headgasket, Must be matched to the Head, a D16z6 one will be fine! however, you can go for, i think, a D16y7 or D16y8 Headgasket, as this is the Thinnest D Series gasket (Unless you go for a Cometic etc - Expensive)
Timing Belt, The VTEC head sits higher than a normal Non VTEC head, therefore, the normal timing belt (D14 for example), wont be long enough to use! it "can" be done, but it will make the belt too tight, and stress and decrease the life of the belt, match the Belt to the Head! Buy a brand new one!!
Adjustable Cam Gear, when the Engine is all back together, and with the increased Height of the engine, even when timed up the cam timing will be out slightly, its only a few degrees, but its worth it
Electronic Fuel Pump, Dual carb engines such as the D14a1, run the fuel pump off the cam, and with VTEC engines being Fuel Injection, they usually run a pump inside the tank and high pressure, therefore do not run a pump off the cam! so youll need an electronic fuel pump to get fuel to the engine, you will need an In-Line pump, rated for a maximum of 5psi, a Facet-Posi-Flo is perfect for this! (Rated 1-4psi, ~£35), also, these type of pumps are noisy
VTEC Switch, the Easiest way to do this, would be a simple 12v Circuit off a switch, BUT! i highly recommend a Buddy Club V-Con! Why? its RPM Activated and adjustable and its easy to wire in and can be had cheap! (around ~£40)
Other bits that are not essential, but i recommend...
Fuel Pressure Regulator, an In-Line pump "pulses" so to speak, and this can cause a hunting idle, aswell as hesitation and float bowl over-flow, which can cause performance and MPG Issues, a Cheap one will suffice! Usually around ~£20 on ebay (Usually rated 1-5psi)
Fuel Pressure Gauge, This is isnt really needed, but you can monitor the regulator and pump with this! (Around ~£10 off eBay)
New Tensior and Water Pump, Why not, its so easy to change whilst the engine is in bits! Save you a few headaches down the road.
VTEC Stickers, Because VTEC Stickers make you cool!
Now, the build! Pretty strait forward if youve done a headgasket before, take the head off, remove bottom pulley, timing belt etc!
Now, once the old head is off, there is a small Oil jet between cylinders 2 and 3 on the Inlet side, this NEEDS to be removed! this is VITAL! Why? VTEC Heads have this jet internal in the head, and having Both jets would possibly starve the oil feed to the head! REMEMBER TO REMOVE THE JET! (Jet Circled Below)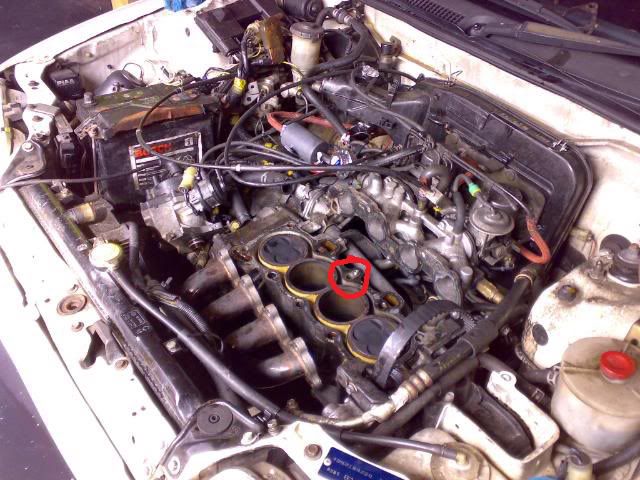 Now, just simply re-assemble the engine, you "may" need to remove some studs on the inlet side to allow the carbs to bolt up to the head, also fit new tensioner and water pump if you got one!
Remember to fit the adjustable pulley and time the engine correctly according to an OEM Manual (Most D Series time up the same), Once timed up, you need to adjust the Pulley to i think its 4 Degrees retard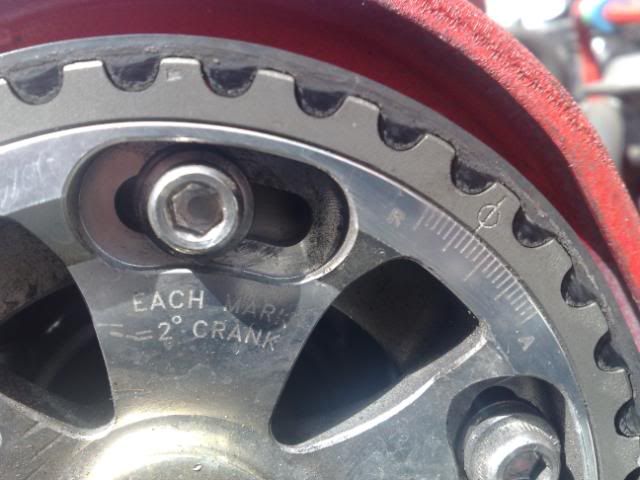 Now, the Distributer, a D14a1 Dual Vacuum Dizzy will not bolt up to a Z6 Head, you need to Extend and Widenen the holes on the Dizzy, Because of the Cam Timing Advance, the Ignition timing needs some more advance also! Below is a Diagram of what to do, and an example!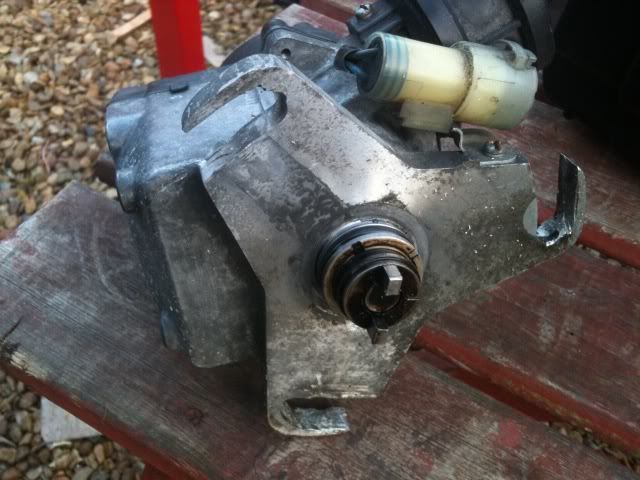 Next, Wiring up VTEC, Buddy Club V-Con, cheap, easy to wire up! looks like so, The VTEC Solenoid only has 1 Wire, 12V Signal Wire (Solenoid Earths through the engine)
Fuel setup, most Inline Fuel pumps have a chart explaning were to locate the pump, with the Facet-Posi flow, it needs to be located near the tank!, Its best to put the pump in-place of the OEM Fuel filter (Located behind the RTA on the passenger side), its then best to mount any Regulators and guages on the engine bay itself so it can be easily adjusted and monitored.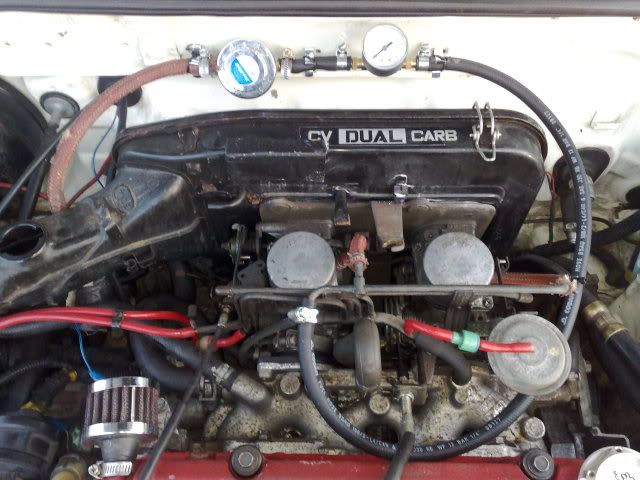 When Re-fitting the choke and throttle cable, it will be a tight fit and will rub on the rocker cover, but i ran it for ages like this, ran fine! i eventually Re-Routed the Choke cable to hide it out of sight.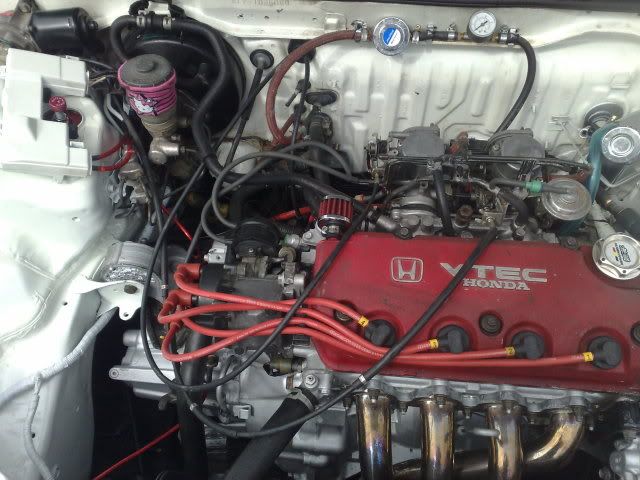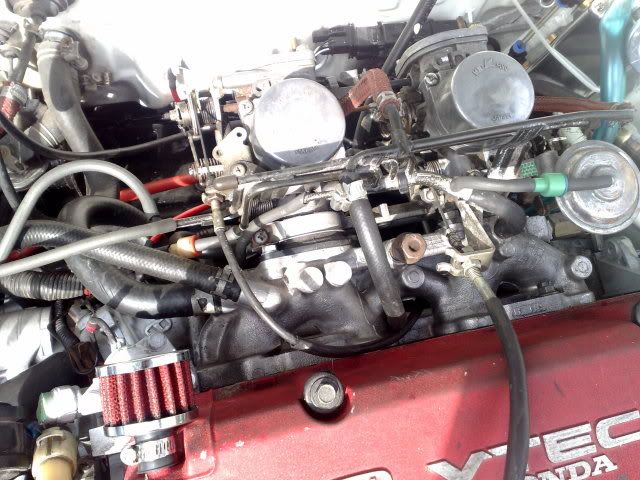 End Result?
http://www.youtube.com/watch?v=NtFVZN_SM38
Just FYI! The engine pictured and Documented is a JDM D15b Block with a D16z6 Head! i later changed to a Complete D16z6, although this How-To can be used as a reference!
Another thing to add! is people seem to be confused how carbs work, and people worry that they may, "lean out" at VTEC Crossover, OEM Dual Carbs overfuel ALOT, and they are limited to the maximum amount of fuel and air it pulls through, by the Main Jet, Needle Jet and Spring Pressure (I pulled a Dead, Flat 12.0AFR on WOT - Ideally around 13.8 for Max Power)
Carbs work on a Need for Need Basis, When the engine demands more fuel and air, the carbs will delivered, hense carbs are self adjusting for fuel (similar to the 02 Sensors sending infomation if the engine needs for fuel or air), but as above, are limited to what they can perform (or in OEM Setup case, to much fuel)
Any questions? Just ask!